Founder Message
Firstly, I would like to thank you for visiting our website and since we met, please allow me to say a few words about the global environmental idea behind HANDY SPA that was initiated from Cyprus and spread rapidly all around the world.
The idea to create HANDY SPA originally started after allergic skin problems that appeared on my body after using soaps that contain toxic and harmful substances. Therefore, I and a small group of friends decided to start up a company to make an innovation. This innovation was the handmade organic soaps and cosmetics without any toxic substances. We all had and always have the same vision "Love and respect for the environment, the animals and the human health" [You can read more on History section]. We are proud that we get the innovation award 2020 from OEB. This award has uploaded us for No 1 Organic Cosmetics Brand in Cyprus and Europe.
Today, if you look around you, you can see that our PLANET is slowly dying day by day. The atmosphere is contaminated, animals are abused (many species are vanished) and there is risk on human health to new and existing diseases. One of the major reasons of the environmental pollution is the daily usage of toxic soaps during our bath. In simple words, the toxic ingredients found in soaps, in cosmetics and in make up products that are transferred through the water into the horizon contaminate the water that feeds the animals, fish, plants and humans.
We can all work together and stop this disaster and all live on this planet happy and healthy. All we have to do is to support the HANDY SPA philosophy by using and promoting the handmade organic soaps, cosmetics, make up and food products as much as we can. By replacing the soaps and cosmetics for the face and body, with one of the Handy Spa handmade organic soaps, the benefits you get for your health and for the environment are enormous. That's the reason that Handy Spa received 9 Awards until now. That's because we make our products with love and with the highest quality standards.
I welcome you all to our big family and I promise to provide you with the highest quality products at the best prices. Just remember to sign up to our newsletters and get 15% discount on your first order.
If you have any enquiries or you need to ask anything, please feel free to contact me directly or our customer support that are always here to help you.
Let me wish you a pleasant surfing through our website and have an enjoyable shopping.
See you again in an unexpected time because we never say goodbye.
We always say…. until we meet again!!!!
Let's live healthy in a HANDY SPA way!!!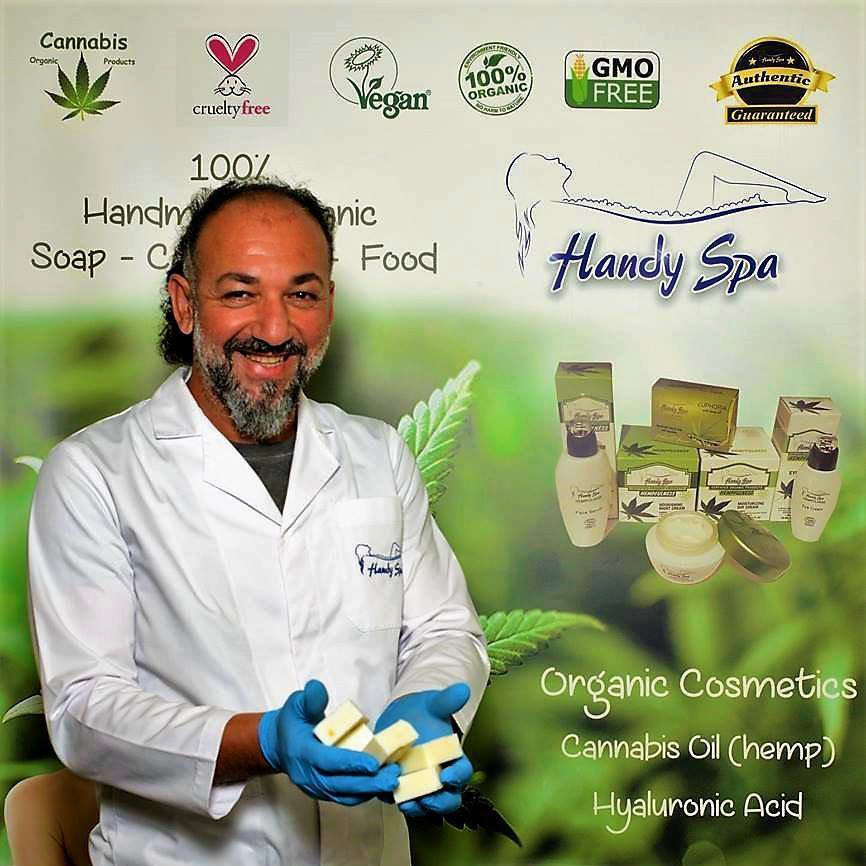 * For more information about the Founder's life and career, please visit his personal website here.